Oncology Center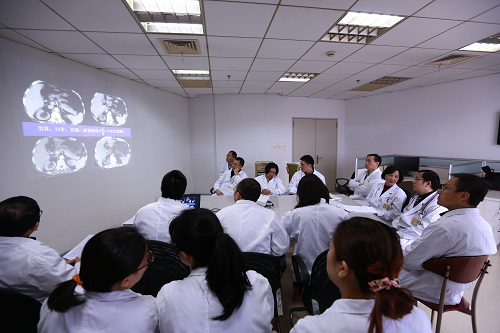 The Oncology Center, the first tumor department among Shanghai Grade-A tiertriary general hospitals, is one of key disciplines in the Hospital. In 2013, the Hospital integrated relevant resource of tumor discipline to establish the Oncology Center. The directors are Professor Huang Qian and Professor Wang Hongxia. The Oncology Center includes the department of medical oncology, department of tumor radiotherapy, department of tumor intervention, department of genetic diagnosis and biotherapy. Now, the Oncology Center has 185 approved beds, 50 medical technicians including 36 doctors, seven persons with senior professional title, ten persons with sub-senior professional title, and 18 attending physicians, 11 doctors, 18 masters and five graduated doctors and masters, five current doctoral candidates, six current master degree candidates and four persons who have studied abroad. The Oncology Center now is the Executive Committee Unit of Chinese Society of Clinical Oncology (CSCO) of Chinese Anti-Cancer Association, Chairman Unit of Expert Committee for Pancreatic Cancer of CSCO, Member Unit of Safety Management Committee for Anti-Tumor Drug of CSCO, Council Member of Shanghai Anti-Cancer Association, Vice Chairman Unit of Specialized Tumor Committee of Shanghai Medical Association, Member Unit of Shanghai Specialized Committee for Tumor Radiotherapy, Expert Member Unit of Shanghai Tumor Chemotherapy Quality Control Center and Member of Shanghai Expert Committee for Quality Control of Tumor Radiotherapy.
In 2013, with the concerted efforts of the tumor related departments of the Hospital, the Oncology Center was selected as the national clinical key specialty construction project and granted construction fund of 5 million. In recent three years, it won eight national level topics (including Pre-Research Project of Key Research Plan of National Natural Science Fund, National "973" and "863" Plan, Key International Cooperation and Exchange), 10 city level topics and various scientific research fund more than RMB 19 million. In recent three years, it published 19 SCI papers on Nature Medicine and Gastroenterology with a total impact factor of 92.48. In 2013, it won the Third Shanghai Medical Science and Technology Prize. It compiled the Health Education Manual for Patients with Pancreatic Cancer. As a leading discipline, it is also responsible for compiling the Consensus of Chinese Experts on Diagnosis and Treatment of Pancreatic Cancer. The Center has one person selected into National Outstanding Youth Fund Plan, one person national level candidate of "Hundred, Thousand and Ten Thousand Talent Project", one person Shanghai Leading Medical Talent, one person Shanghai Excellent Academic Leader Plan and three persons Shanghai "Pujiang Talent Plan".
Through nearly 20 years of efforts, especially since the establishment of the Oncology Center in 2009, the oncology discipline develops rapidly. The Center integrates tumor prevention, diagnosis, comprehensive treatment and recovery. Now it boasts three linear accelerators (including the most advanced VARIAN-RapidArc treatment system), High Intensity Focused Ultrasound treatment system (HIFU knife), RF/microwaving tumor melting treatment system, HF thermal therapy system, radioactive particle interstitial implantation treatment system, Ar-He tumor cryotherapy system and cancer genome detection system (ABI-320 sequenator). It is able to carry out PET-CT inspection, magnetic resonance inspection, CT inspection, chemical treatment, 3D conformal and intensity modulated radiation therapy, molecularly targeted treatment, surgical operation treatment, tumor biotherapy, minimally invasive operation treatment, oncogene detection and other tumor diagnosis and treatment technologies. It set up the outpatient of tumor diagnosis and treatment by combining multiple disciplines to implement the real comprehensive treatment of multiple disciplines and individualized treatment of the tumor and provide the cancer patients with the most scientific diagnosis and treatment technology and the best one-stop service. The Center also established long-term and stable cooperative relationship with MD Anderson Cancer Center, Markey Cancer Center of the University of Kentucky, the School of Medicine of the Duke University and Kyoto University Hospital to establish all-round cooperation in clinical diagnosis and treatment of tumor, scientific research and talent cultivation.