Vice president of Shanghai Jiao Tong University Visits Our Hospital for Inspection and Instruction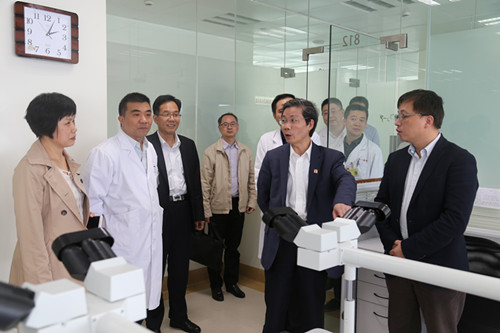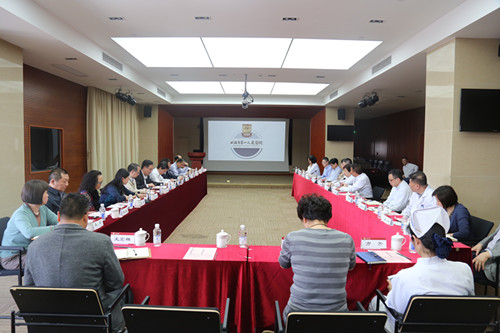 May 3, Vice President Cheng Guoqiang of Shanghai Jiao Tong University, Party Committee Deputy Secretary Zhao Wenhua, Deputy Dean of the School of Medicine Hu Yiqun, directors from Human Resource Department, Science and Technology Development Department, Teaching Affairs Department, Discipline Regulation Department, Medical Management Department, Basic Medicine School, Graduate School visited our hospital. President Wang Xingpeng, Deputy Secretary of Party Committee Yang Xinchao, Vice President Xia Shujie, Vice President Zhong Liwei, Chief Accountant Xia Peiyong, and leaders from management departments accompanied the visitors.
Professor Fu Guohui of Pathology Department led the group to Pathology Center and introduced the talent training, discipline development, education and teaching, equipment and facilities. They also have a conversation with our resident doctors to have a thorough understanding of the Center. Chen Guoqiang highly appraised construction of Pathology Center with the support from the School of Medicine in the past 3 years.
President Wang Xingpeng gave a detailed report on the hospital current situation and specific measures in structural adjustment, talent training, discipline construction, education, hospital operation and management this year. In particular, he described the goal for hospital total quality management in 2016. Department Head Hu Yingping, Department Head Liu Wei, Professor Fu Guohui reported our practice of talent development strategy, exploration of green development, construction of "5+3+X" education system, and the development of Pathology Center. Department Head Zhu Yanhong elaborated our cooperation with Shanghai Institute of Immunology.
After listening to the reports, Hu Yiqun pointed out that Shanghai General Hospital set a high standard in implementing the talent plan, the clinical education system, organizational structure and hospital management which met the university requirements. The hospital integrated clinical treatment with education and research and has made remarkable achievements. He said the Pathology Department's as an intergral part of the hospital played a key role in medical treatment. In addition, he suggested the hospital should promote cooperation with Shanghai Institute of Immunology.
Deputy Secretary Zhao Wenhua thought our hospital had strength in personnel, research and teaching. The distinctive concept of total quality management could lead the hospital management to a more scientific direction.
Vice Presient Chen Guoqiang made a summary speech. He gave a high appraisal on hospital fast development and achievements in recent years. He also agreed that our hospital should have more cooperation with Shanghai Institute of Immunology and enlarge the scope of research by establishing Research Center for Immunity and Micro-Ecology-Related Diseases of Shanghai Institute of Immunology. He encouraged us to break system limit, realize win-win results and common development.
At last, President Wang Xingpeng summed up the meeting saying that our hospital would adhere to Shanghai Jiaotong University instruction, live up to the goals of School of Medicines in the future and developed the hospital better and faster.