Multidisciplinary Team of Shanghai General Hospital Removed the Giant Pelvic Tumor from A Patient with Giant Leiomyosarcoma
Link of the original article: https://mp.weixin.qq.com/s/e7R03K7jnMZgbYXUponHKg
Recently, a patient with giant leiomyosarcoma in the pelvic cavity was successfully removed with the cooperation of colorectal surgery department, vascular surgery department, obstetrics and gynecology department, blood transfusion department, emergency critical care department, anesthesiology department, radiology department, operating room nursing team from surgery room and other disciplines. The surgery took 7 hours to remove the mass completely, and the left iliac artery and left iliac vein were reconstructed. The patient has recovered and been discharged from hospital.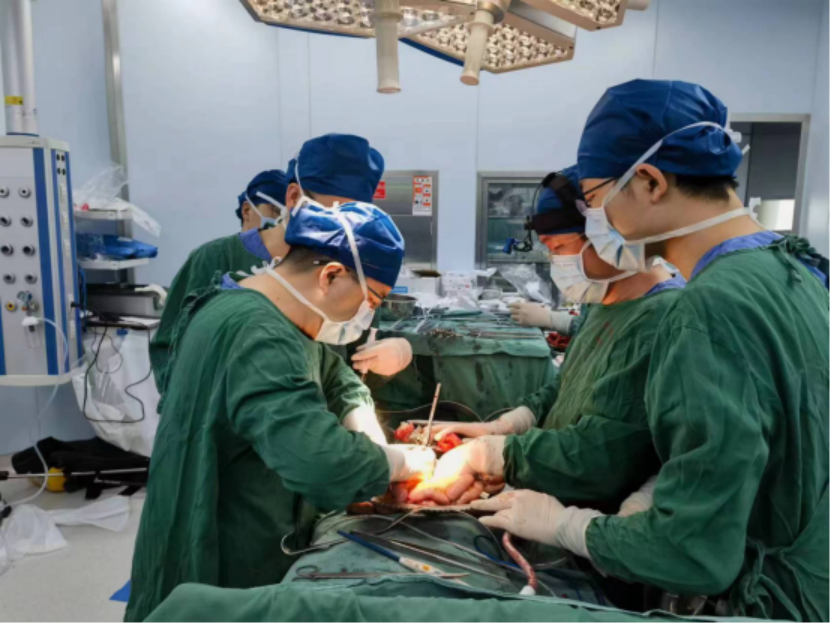 In May, Mrs. Wang felt abdominal distension, and was diagnosed with a huge pelvic cavity tumor in the local hospital, and the tumor invaded several important blood vessels in the pelvic cavity. Mrs. Wang traveled between several hospitals and was told that the surgery was too difficult. She happened to learn the experts of Shanghai General Hospital can treat the diseases. She immediatly came to the hospital for help.
Mrs. Wang was received by Professor Li Qi, director of oncology department(north) . After careful consultation, Professor Li believed that her tumor should be treated by phase I surgical resection plus phase II adjuvant chemotherapy. Due to the size of the tumor and the invasion of the iliac artery and iliac vein vessels, the experts discussed the treatment plans. Professor Yan Dongwang, director of colorectal surgery department (north), and Professor Meng Qingyou, director of cardiovascular surgery department (north) were invited to join in the discussion. The two experts reached a preliminary consensus that although the surgery was difficult, the tumor could be removed and the invaded iliac artery should be reconstructed in the surgery.
On the day of the surgery, Professor Yan Dongwang and Professor Meng Qingyou collaborated in the surgery. The surgical team fought for more than 7 hours to remove the tumor and reconstruct the left iliac artery and left iliac vein, with the pathology suggesting a giant leiomyosarcoma. During the surgery, gauze covered the entire operating room. The surgery was successful with the support of precise monitoring by the anesthesiology department and adequate blood preparation by the blood transfusion department. Post-operative CTA examination showed that the tumor was cleanly removed and the reconstructed blood vessels were smooth. One week later, Mrs. Wang was discharged from the hospital and has now completed the first chemotherapy.
According to reports, in the past two years, the vascular surgery department at Shanghai General Hospital has successfully treated more than 10 cases of invasive giant tumors in cooperation with multidisciplinary departments.