The Fourth Ningxia Science and Technology Week Successfully Held by Shanghai General Hospital and Ningxia Fifth People's Hospital
Link of the original article:https://mp.weixin.qq.com/s/8-9X2otq8HlqMFCBr2Pi3Q
On July 21, the fourth installment of the Ningxia Science and Technology Week took place. The event was co-hosted by the Shanghai General Hospital and Ningxia Fifth People's Hospital, under the aegis of the Medical Group of Shanghai General Hospital. Held at the Ningxia Fifth Hospital in Shizuishan City, the event was graced by numerous distinguished attendees. Among them were Zhang Huizhong, Director of the Health Commission of Shizuishan City, Yang Weiyu, Party Committee Secretary of Ningxia Autonomous Region Fifth People's Hospital, Tian Weining, President of the Hospital, Liu Fang, Director of Foreign Affairs of Shanghai General Hospital, Fan Weidong, Director of Finance, and nine clinical experts, all of whom delivered addresses.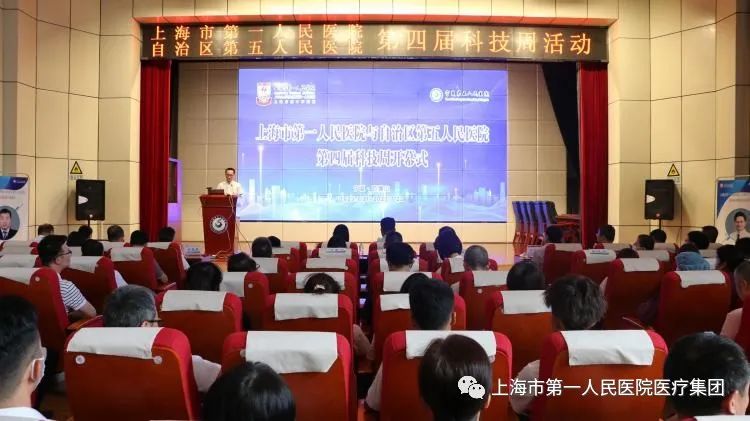 In the event, the experts from Shanghai General Hospital engaged with the management and medical staff of Ningxia Fifth Hospital through academic lectures, case consultations, and teaching ward rounds. These scholarly exchanges spanned topics including hospital management, medical technology, and research. Expert-led lectures included subjects such as "complex renal tumor surgery, pancreatic tumor diagnosis and treatment, minimally invasive procedures for hepatobiliary pancreatic spleen diseases, radical hysterectomy for non-tumor cervical cancer, wound repair of diabetic foot, and the critical role of nursing staff in hospital-wide blood glucose management", aiming to guide clinical diagnosis, treatment methodologies, and research progression for challenging and severe diseases.
In the symposium discussing discipline construction, experts from Shanghai General Hospital offered counsel on the development of hospital disciplines and sub-disciplines: firstly, prioritizing prevalent diseases within each discipline and enhancing diagnostic and therapeutic protocols; secondly, broadening sub-disciplines, with a special emphasis on areas such as pelvic floor rehabilitation and diabetic foot; thirdly, encouraging key personnel within each discipline to specialize in specific surgeries, fostering unique individual expertise. The professionals delivered lectures on these topics, providing guidance on clinical diagnosis, treatment techniques, diagnosis key points, and research advancements for difficult and severe diseases.
On the morning of July 22, a skilled team of experts from the Shanghai General Hospital conducted a health consultation and complimentary clinic in the inpatient hall of Ningxia Fifth Hospital, open to the public. They patiently examined each patient, explaining their diagnoses in detail, addressing complex symptoms, and enhancing the public's health knowledge and awareness. The expert team's exceptional medical proficiency and commendable ethics were applauded by the patients who attended the clinic. This complimentary clinic, attended by 158 citizens, was socially impactful. Post-consultation, medical experts delved into clinical departments to discuss complex cases, offering authoritative technical guidance for department development and discipline construction. The event featured seven academic lectures, 18 complex case consultations, four teaching ward rounds, 10 mini lectures, and 15 departmental business guidance sessions.
The successful hosting of this Science and Technology Week is an important stride by the Ningxia Fifth People's Hospital in advancing the 'Healthy Ningxia' initiative, implementing the 'Healthy China' strategy, and promoting the high-quality development of public hospitals. Since joining the Shanghai General Hospital Medical Group in 2016, Ningxia Fifth People's Hospital has fostered a strong collaboration with Shanghai General Hospital, covering aspects such as medical treatment, teaching, research, and management. Through regular Science and Technology Week events, expert-led training lectures, surgical demonstrations, ward rounds, complex case discussions, complimentary clinics, and online academic exchanges, the partnership has thrived. Ningxia Fifth People's Hospital has sent 39 medical personnel to the Shanghai General Hospital to absorb advanced management experiences and cutting-edge medical technologies, propelling the hospital's high-quality development and offering superior medical services to the local people in Shizuishan City.