Dialogue With Professor Honglin Wang from Institute for Clinical Research, Shanghai General Hospital: How Can Good Research Become A Good Product?
Link of the Original Article:
https://mp.weixin.qq.com/s/lLDqPx4QJIhP6t5iH0Jw7A
For most people, translational medicine,
Could be a strange concept,
But for clinicians and basic researchers,
Translational medicine is a bridge between the two,
Aims to turn research ideas into accurate,
Effective clinical practice,
And ultimately benefits patients.
Recently, Xinmin Weekly had a dialogue with
Shanghai General Hospital,
Executive Vice President of the Institute for Clinical Research,
Director of the Precision Research Center for Refractory Diseases,
Professor Honglin Wang,
Who searched for the indigenous innovation,
De novo developed in China, and licensed by the NMPA for clinical trials,
A candidate drug for the treatment of psoriasis, CKBA Ointment,
Which took nearly 20 years to develop.
Now let's go into the story of a real product.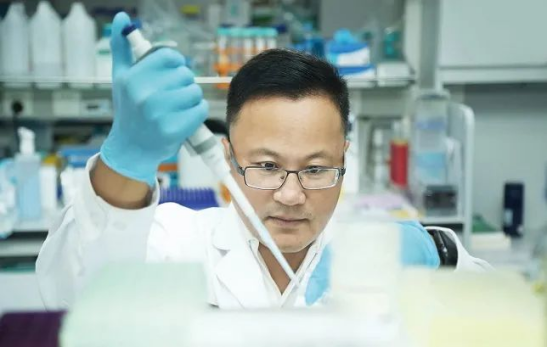 Vitiligo is a chronic, intractable skin disease caused by the loss of melanocyte function in the skin. Its pathogenesis is complex, and the incidence is rising year by year. According to the statistics of the Ministry of Health, there are about 30 million cases of vitiligo in China, 63.4% of which are adolescents less than 20 years old, and only 11.7% of which have received effective treatment.
So far, no specific drug for the treatment of vitiligo has been found in humans.
Another common chronic, recurrent, inflammatory skin disease, psoriasis, commonly known as "serpedo", once affected, lifelong involvement. Most of the topical drugs used in clinical practice contain glucocorticoids, which have a significant short-term effect, but long-term use will result in serious adverse effects and drug resistance. For other topical drugs, there are slow onset, weak efficacy, poor control of the disease, etc., also let tens of millions of patients bear the double pressure of physical and psychological.
In response to the puzzle of patients with psoriasis and vitiligo, Professor Honglin Wang has studied for 20 years and made original scientific and technological achievements. After making original scientific and technological achievements, he has realized the transformation of the achievements of scientific-technological cooperation between the hospital and the enterprise. His new drug for the treatment of psoriasis and vitiligo with independent intellectual property rights has completed phase I clinical trials and is in phase II clinical trials, and is expected to come on the market as soon as 2-3 years.
"Twenty years ago, we extracted the active ingredient AKBA from Frankincense, a very effective ingredient in the treatment of rheumatic diseases. Many people know its value, but have not mastered the method of large-scale production. Since 2011, we have been working with enterprises for three years to overcome the technical difficulties in the purification and separation of AKBA. After significant increases in production, the price of AKBA has been reduced from 700 yuan to 2 yuan per milligram, bringing the prerequisite for mass Production. After modification and screening, we obtained the new compound entity CKBA -- C, represents China. This is an innovative drug candidate molecule with global intellectual property rights innovated by we Chinese people." Professor Honglin Wang told Xinmin Weekly.
In the process of translating scientific research into products, many difficulties have to be encountered: lack of funds, technology, failed clinical trials, and so on. "In order for a drug to be marketed, it needs to be proved that the drug is safe, effective and of controllable quality. Since 2015, we have been conducting preclinical studies, verifying safety and pharmacodynamics data through animal model experiments. The materials alone take up six whole suitcases," said Wang Honglin.
In 2019, Professor Wang's team obtained the approval of the State Food and Drug Administration for the clinical trial of CKBA ointment for the treatment of mild to moderate psoriasis, becoming the first local original innovation and de novo drug candidate for the treatment of psoriasis and approved for clinical trials of NMPA. During the phase II clinical trials, Professor Honglin Wang and his team unexpectedly found that CKBA was also effective in improving melanin loss of vitiligo skin, indicating that vitiligo could be expanded to a second indication. "Because no innovative drug for vitiligo has been available in China, if CKBA passes the phase II clinical trials, it can be given the priority of evaluation and marketing in accordance with national policy, benefiting thousands of patients with vitiligo."
Twenty years of sharpening a sword, Professor Wang is filled with emotion. In the past, many studies remained at the stage of papers, without applied results. Some studies of compatriots were even published and further developed into products by foreign pharmaceutical companies. The benefits obtained in the later stage have nothing to do with the researchers and are a loss to the researchers and the country. "On the one hand, researchers do not attach importance to transformation, on the other hand, the industry and academia are not well connected. In recent years, the state has particularly encouraged innovation and transformation. We have been able to match the international advanced level in scientific research capability and platform building, and our reserve of scientific research talent is better than that of foreign countries. "As Professor Wang said, data show that since 2008, our country has been implementing the National Science and Technology Major Project of "Major New Drugs Creation", so far harvesting more than 60 new drugs approved, Shanghai accounting for about one-third.
In 2020, Shanghai Shenkang Hospital Development Center established a municipal hospital Clinical Research for Development Center. As a large platform, the center shall based on the overall positioning of "promotion, service, and coordination", on one hand, integrate resources internally to support the transformation and development of municipal-level hospitals, and on the other hand, connect with relevant manufacturing enterprises to break through the rapid verification and application channel of enterprises' new products in the hospital so as to help the municipal biomedical industry to realize high-quality development.
In this context, more and more hospitals, universities and research institutes are entering this track, actively docking cutting-edge progress and new breakthroughs in life science and biotechnology. In addition to the research of Honglin Wang team, Shanghai General Hospital has many translation-related topics in research. It is expected that during the 14th Five-Year Plan period, the number of clinical research-type beds in the hospital will reach at least 200. Centered on the clinical value orientation of major diseases, the achievements made from the joint research carried out by more scientific researchers and clinical experts will make contributions to the development of original drugs of our country.
Some text of this article was excerpted from the 2021 Xinmin Weekly
Reporter:Zhou Jie
Editor: Hu Yang, Cai Shishi, the Department of Publicity