First Case in Songjiang District: Micra AV, A New-generation Leadless Pacemaker Successfully Implanted
Link of the original article:
https://mp.weixin.qq.com/s/MXgx_9KsbiIA85t2ko0bpQ
Recently, a team from the Department of Cardiology of Shanghai General Hospital (South) under the leadership of Professor Wang Fang, director of the department, successfully performed Micra AV leadless dual-chamber pacemaker implantation for a patient with II degree type I AV block.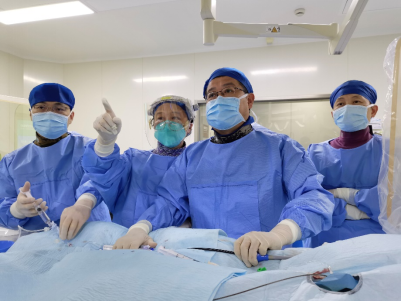 Patient's condition
The patient was 77 years old. One month ago, the electrocardiogram showed sinus rhythm with type I atrioventricular block of degree II, accompanied by chest tightness, which could be relieved on its own, and there was no abnormality in the ultrasound examination, and the EF was 66%. The slowest heart rate was 27 beats/min and the longest RR interval was 2.3 seconds, which was due to degree II AV block and was indicative of pacemaker implantation. After thorough communication with the patient and his family, a Micra AV leadless pacemaker was selected. It only took 30min to complete the implantation. It showed the pacing parameters were good, and the patient returned to the ward without any intraoperative discomfort.
Clinical benefits of the Micra AV leadless pacemaker
The new generation of Micra AV pacemaker not only inherits all the advantages of the first generation of leadless pacemakers, such as the size of a capsule, weight of less than 2 grams, compatibility with 1.5T/3.0T whole-body MRI scans, absence of capsular bag infection and electrode lead-related complications, and almost imperceptible presence, but also the intelligent sensing of atrial signals by the innovative algorithm of Micra AV. This realizes the function of "sensing atrium pacing ventricle", providing a new option for more patients with slow arrhythmias, especially AV block.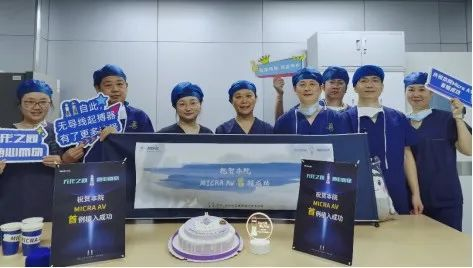 Expert comments
Prof. Fang Wang said that it is a blessing for the patients that the new generation of leadless pacemaker Micra AV, is being used less than two years after the first generation of leadless pacemaker Micra VR, was implanted in Shanghai General Hospital. The leadless pacemaker allows patients to be free of upper extremity mobility after surgery and reduces their psychological burden with the development of science and technology. The clinical application of innovative therapies and advanced technologies will bring more choices and better experiences to patients.
(Correspondent: Feng Zhang, Cardiology Department at Shanghai General Hospital)