Shanghai General Hospital Creates Integrated Whole-process Management to Ensure Endocrine safety in Pregnancy
Link of the orginal article:
http://wenhui.whb.cn/zhuzhanapp/yiliao/20220930/488247.html?timestamp=1664510164890
How to standardize the diagnosis and treatment of abnormal blood sugar and thyroid function during pregnancy? In Shanghai General Hospital, pregnant women can enjoy integrated medical services provided by multiple disciplines in a one-stop clinic by simply registering a number.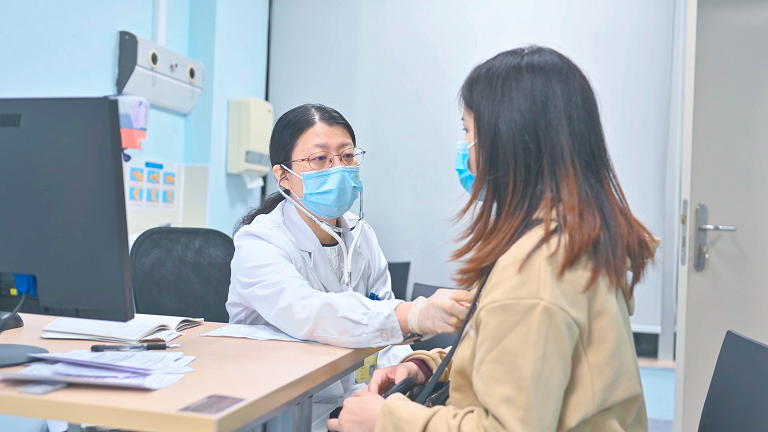 As a national standardized metabolic disease management center, Shanghai Gestational Diabetes Diagnosis and Treatment Center and Shanghai Critical Maternal Consultation and Rescue Center, Shanghai General Hospital gives full play to the advantages of a comprehensive hospital, and the Department of Endocrinology and Metabolism, led by the Department of Obstetrics, Nutrition and Pediatrics, has set up a multidisciplinary clinic for the whole pregnancy endocrine management. The clinic provides integrated longitudinal standardized treatment and management for pregnant women before pregnancy, during pregnancy and after delivery.
Since the service is offered in December 2014, the clinic has seen a total of more than 12,300 patients and successfully rescued more than 300 critically ill pregnant women, while raising the awareness of local residents on health management and promoting the development of graded diagnosis and treatment in the region. Recently, the "Multidisciplinary Pregnancy Endocrine Management Clinic" of Shanghai General Hospital was awarded the "Excellent Case" for the construction of multidisciplinary clinics in Shanghai among 36 projects.
Ms. Wang, 33, was diagnosed with type 2 diabetes 3 years ago, which annoyed her for years. After she got married, Ms. Wang was even more worried. Will diabetes be passed on to the baby? Is it safe to be pregnant and give birth with diabetes? With these questions, Ms. Wang came to the "Multidisciplinary Clinic for Endocrine Management of Pregnancy" in Shanghai General Hospital South Campus.
After a detailed inquiry of Ms. Wang's medical history, menstrual history, history of concomitant diseases, current blood sugar control and medication, the doctors at the multidisciplinary clinic gave Ms. Wang detailed instructions on a "to do" list during pregnancy preparation, and included her in the database of "Total Pregnancy Endocrine Management" and instructed her to follow up with the clinic regularly.
Dr. Yufan Wang, director of the Department of Endocrinology and Metabolism of Shanghai General Hospital, told reporters that the diagnosis and treatment of endocrine diseases such as pregnancy-associated hyperglycemia and pregnancy-associated hyperthyroidism have always been the specialties of the Department of Endocrinology and Metabolism, and the department advocates integrated management with multidisciplinary cooperation before pregnancy, during pregnancy and after delivery, and is committed to safeguarding the perinatal and long-term health of mothers and babies.
Based on this, the department has officially opened the "Multidisciplinary Clinic of Endocrine Management of Pregnancy" since 2014. With the support of the medical department, information department, obstetrics, nutrition department and pediatrics department, the multidisciplinary clinic has realized "one-stop" diagnosis and treatment services, established a disease database automatically connected with the HIS information system, and realized the standardized diagnosis and treatment and integrated and vertical management of pregnancy endocrine diseases before pregnancy, during pregnancy and after delivery.
At the same time, the multidisciplinary clinic also makes use of cell phone APP, intelligent wearable devices and other information technology to cover seamless and horizontal management from inside to outside the hospital, truly providing full-cycle and all-round care for pregnant women, and also closely tracking and regularly following up newborns.
The core strength of this management system is the "multidisciplinary alliance". Before pregnancy, the endocrinology and metabolism departments can conduct comprehensive assessment and screening of high-risk groups for mothers-to-be, and formulate and adjust treatment plans. During pregnancy, each mother-to-be is included in the pregnancy database, and can record diet, exercise and blood sugar through an app. During pregnancy, each "mother-to-be" will be included in the pregnancy database and their diet, exercise and blood sugar will be recorded through the app, and professional staff will communicate with them online to adjust the treatment plan and provide health education at any time. After delivery, the pediatrics department will conduct offspring assessment for newborns, and the obstetrics and nutrition departments provide personalized guidance on feeding, diet and exercise, and daily medication for new mothers. The endocrinology and metabolism department will continue to follow up patients remotely based on the MMC (National Standardized Metabolic Disease Management Center) platform.
"Since the opening of the clinic, the incidence of gestational diabetes in pregnant women in the region has decreased year by year, and the awareness rate of gestational diabetes has increased from 21.8% in 2016 to 94.1%, which has greatly improved the health awareness of residents in the region.
"The significance of the Multidisciplinary Pregnancy Endocrine Management Clinic does not stop there. In addition to providing medical services to patients, Dr. Yufan Wang's team is also committed to promoting the construction of regional graded diagnosis and treatment. The team applies the "1+X" model of metabolic disease management to refer local patients with difficult diseases to Shanghai General Hospital in a timely manner, and continues to follow up locally after their conditions have stabilized. This bottom-up referral and top-down return process greatly saves patients' medical time, promotes graded diagnosis and treatment of diabetes management, and facilitates regional linkage between hospitals at all levels.