Comprehensive Treatment Strategy for "Internal and External Repair": The Spine Surgery Team of the Orthopedic Center at Shanghai General Hospital "Straightened the Waist" for the Elderly Patients with Spinal Deformities
Link of the original article:
https://mp.weixin.qq.com/s/MA2ZQaPr4BYNVGOHGgTxsQ

Osteoporosis can aggravate the degeneration of the spine. As the aging population increases, the number of elderly patients with osteoporosis combined with spinal deformities increases year by year. In recent years, based on numerous clinical cases, the Department of Spine Surgery of Shanghai General Hospital, led by Professor Dianwen Song, has developed a comprehensive treatment plan for osteoporosis combined with spinal deformity: a combination of surgery, anti-osteoporosis treatment and long-term follow-up management. The treatment program has helped many elderly patients "straighten their backs".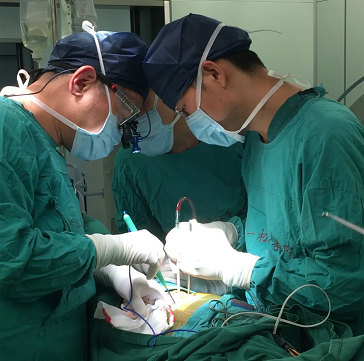 Ms. Xu, 69 years old, suffered from severe osteoporosis and had an osteoporotic compression fracture of the thoracic spine. Since she did not receive standard anti-osteoporosis treatment, her back has become increasingly curved, and severe kyphosis has developed in recent years. The hunchback, which almost looks like the "Crescent", not only squeezed her internal organs, but also seriously affected her daily life, and even made it difficult to drink and eat.
Therefore, Ms. Xu sought treatment at the Department of Spinal Surgery of Shanghai General Hopital Songjiang Campus. Due to the severity of osteoporosis when she came to the hospital, Director Dianwen Song suggested that she first undergoes regular anti-osteoporosis treatment to improve her bone density and then have surgery to repair the deformed spine. After about a year of treatment, her bone density increased by 7%. However, her thoracic kyphosis had also developed to 73 degrees, and surgery was urgently needed.
Spinal deformity surgery is a challenging operation that is traumatic and risky and may take a long period of procedure. Especially in the case of osteoporosis, the requirements for the surgeon's technique and equipment are even higher. The operation was performed by Dr. Dianwen Song, and Dr. Jianfeng Wu, the deputy chief surgeons of the team. Under the guidance of a 3D imaging system and with the assistance of a grinding drill, ultrasonic osteotome, and other advanced surgical equipment, the team successfully performed the "modified PSO osteotomy and internal fixation surgery" for the patient. During the surgery, internal fixation materials specially designed for patients with osteoporosis are used in the operation, which can sufficiently improve the effectiveness of the operation and the postoperative prognosis. Intraoperative Neurophysiological Monitoring was emploied in the whole procedure, so that possible nerve damage caused by the operation could be detected in time and interventions could be taken to avoid nerve complications and ensure the safety of the operation.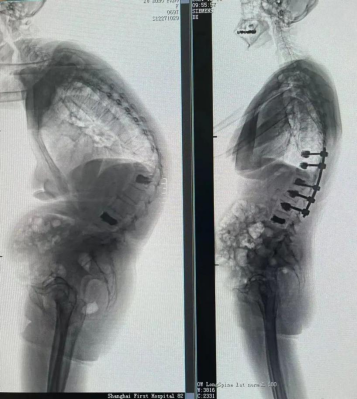 After the surgery, Ms. Xu was able to lie down on the bed, drink and eat conveniently, and her hope for her future life was rekindled. However, although the patient's kyphosis has been corrected, anti-osteoporosis treatment still needs to be continued. In order to reduce the risk of osteoporosis complications, Dr. Dianwen Song's team recruited Ms.Xu to the "Osteoporotic Fracture Early Warning Management System" and developed a long-term rehabilitation program for her, including standardized anti-osteoporosis treatment.
It is reported that the prevalence of osteoporosis among people over 60 in China is 27.4%, of which 8.0% of men and 45.9% of women affected. Without intervention, the disease will aggravate gradually. Those severe osteoporosis patients are often difficult in standing and walking due to postural imbalances, and even lose the ability to care for themselves, resulting in a deteriorating quality of life. Patients with asymptomatic spinal deformities do not require special treatment in routine, but regular imaging follow-up evaluation and scientific standardized anti-osteoporosis treatment are very important. If the condition is severe, with progressive worsening of back pain or neurological symptoms and progression of spinal deformity, timely surgical intervention is required. Therefore, elderly people and their families should raise their awareness of such diseases and pay attention to the prevention and treatment of osteoporosis. They are preventable, controllable and treatable as long as the right method is chosen.
At present, the treatment of osteoporosis combined with spinal deformity in the elderly has developed into a mature medical feature in the Department of Spine Surgery at Shanghai General Hospital, forming an "internal and external" strategy that combines surgical treatment, anti-osteoporosis treatment and long-term follow-up management. The department is equipped with an intraoperative 3D imaging system, a full carbon surgical bed, intraoperative neurophysiological monitoring, ultrasonic osteotome, grinding drill and other equipment systems to "escort" the precise and standardized spinal orthopedic surgery.
Director Dianwen Song emphasized that the diagnosis and treatment of osteoporosis combined with spinal deformity in the elderly should never rely on surgery alone, but should pay more attention to the long-term treatment and management of osteoporosis. In 2019, he took the lead in establishing the "Osteoporosis Liaison Model in Songjiang District" and chaired a major clinical research project of the "Three-Year Action Plan to Promote Clinical Skills and Clinical Innovation Capabilities of Municipal Hospitals" of Shanghai Hospital Development Center, "The establishment and application of an early warning management system for osteoporotic fractures", aiming to bring new hope to improve the quality of life for elderly patients to a greater extent.
This article is extracted from "Jiefang Daily Shanghai Observer" on July.26, 2022
Correspondent: Yang Hu, Shishi Cai, Publicity Department