MDT Team for Chronic Skin Wounds Established at Shanghai General Hospital Providing Integrated Health Management Solutions for Patients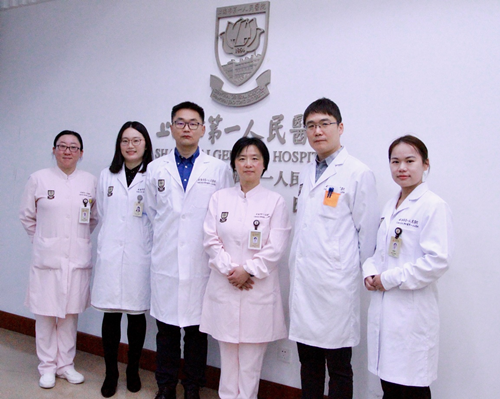 MDT clinic time for chronic skin wounds: Monday afternoon (appointment only)
MDT experts for chronic skin wounds: Gu Song, Gan Shujie, Lin Ying, He Jieyi, Lu Cong, Nie Shu, Zhang Yuan
Chronic cutaneous wound occurs due to various and complex causes, and most patients are combined with various underlying diseases, which makes clinical treatment more difficult. In order to improve the diagnosis and treatment capacity of chronic skin wounds, further break the disciplinary barriers and explore the whole tracking mode of multidisciplinary treatment, the MDT team of chronic skin wound was officially established after months of careful preparation.
According to the introduction, the MDT team is led by Dr.Gu Song, Assocaite Chief Physician of Trauma Center, and its members include Dr.Gan Shujie, Attending Physician of Vascular Surgery Department, Dr.Lu Cong of Obstetrics and Gynecology Department, Dr.Nie Shu of Dermatology Department, Dr.He Jieyi, Deputy Chief Technologist of Nutrition Department, Ms. Lin Ying, Deputy Chief Nurse and Ms. Zhang Yuan, Nurse-in-Charge of Nursing Department, and other senior medical and nursing experts from various departments and divisions. The scope of treatment mainly includes various complex types of chronic skin wounds, such as severe trauma wounds, lower extremity venous ulcer wounds, diabetic wounds, burn and scald wounds, pressure sore wounds, poorly healed wounds after cesarean section, and post-tumor resection wounds. The team is well-staffed with a reasonable set of disciplines, and can provide one-stop solutions to the problems of patients with chronic skin wounds from etiological diagnosis, medical treatment, revascularization, wound repair, postoperative care and nutritional support.
Upon the first day of the team's establishment, the first patient was received to the MDT clinic. The team leader, Dr. Gu Song quickly orgnized the team to analyze the patient's condition. Dr. Gan Shujie pointed out that the wound was probably a "venous ulcer type of chronic skin wound", and further examination of the vascular condition was needed.Dr.Lin Ying suggested improvements to the patient's wound dressing change. Dr.Nie Shu and nurse-in-charge Zhang Yuan of the Department of Dermatology also gave treatment suggestions from their own perspectives.
According to Prof. Lin Haodong, director of the Trauma Clinical Medicine Center, as China gradually enters an aging society, the incidence of various types of chronic skin wounds increases sharply, as the difficult wounds caused by severe trauma, neurotrophic ulcers, serious infections, diabetes, pressure sores, fistula tracts, etc. increases year by year. The establishment of the MDT team for chronic cutaneous wound can provide integrated health management solutions for patients. It also marks the transformation of the diagnosis and treatment mode for skin chronic wound management at Shanghai General Hospital.
(Correspondent: Zhang Yuan, Trauma Clinical Medical Center)