EMBO Journal Cover Article Features New Developments in Kidney Cancer Research by Urological Oncology Team of Shanghai General Hospital
Kidney cancer is a malignant tumor originating from the urinary tubular epithelial system of the kidney parenchyma, and is one of the common malignant tumors of the urinary system. The latest statistics show that the incidence of kidney cancer in China has been on the rise in recent years, and the prognosis of patients with advanced kidney cancer is poor. Clinically, it is found that patients with advanced kidney cancer are often malnourished, but their tumors are not much affected, and even due to excessive growth, ischemic and necrotic diseases often appear in the center of the tumor. Around the issue of how kidney cancer cells cope with nutrient-deficient environment, the prestigious journal EMBO (IF=11.598) featured a cover article on the latest research on kidney cancer cell metabolism by the team of Professor Wang Xiang, Director of the Department of Urologic Oncology at our hospital in October, 2021. The first author of this article is Dr. Shaojia Liang from the Urology Center of Shanghai General Hospital.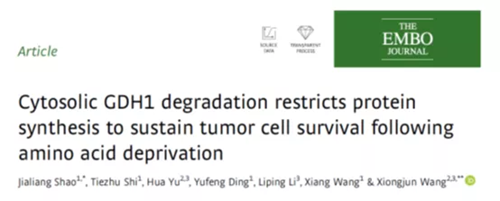 The team found that metabolic remodeling of tumor cells promoted by amino acid deprivation plays a great role in tumor progression and treatment, and that glutamate dehydrogenase 1 (GDH1), which is expressed at different levels before and after tumor progression, is one of the important manifestations of metabolic remodeling of tumor cells. After knockdown of GDH1 resulted in decreased α-KG levels, α-KG-dependent Jmjd family enzyme activity was down-regulated, resulting in up-regulation of histone H3 global methylation modifications, and a stalled ribosome assembly, which led to a significant decrease in protein synthesis in kidney cancer cells and tumor cell survival.
The team also found that GDH1 and its metabolite α-KG limit ribosomal protein gene expression by synergizing the activity of epigenetic regulatory enzymes during stress amino acid deprivation in kidney cancer cells, thus demonstrating the specificity of the metabolic enzyme/metabolite/epigenetic regulatory enzyme signaling axis in the group regulation of gene expression. The research team has delved into the precise signaling pathway regulation of kidney cancer cells dependent on metabolic enzymes in response to nutrient deprivation, uncovered new strategies for kidney cancer cells to cope with amino acid deprivation, and explored potential intervention methods, thus providing a new theoretical basis for the diagnosis and treatment of kidney cancer. This study suggests that increasing the concentration of intracellular α-KG may be expected to be a new research direction for the treatment of advanced kidney cancer.
(Correspondent/Urology Clinical Medical Center Dr.Shao Jialiang)