Catheter Ablation Day Procedure Was Performed with Arrhythmias in Cardiovascular Center at Shanghai General Hospital
Recently, Dr. Zhou Genqing and Dr. Chen Songwen, from the team of Prof. Liu Shaowen, director of Cardiovascular Center, performed catheter ablation day procedure for several patients with arrhythmias. Patients are admitted to the hospital before 10:00 a.m. and sent to the cardiac catheterization center for ablation after going through relevant procedures in the daytime ward. They can get down and move around 2 hours after the porcedure and be discharged in the afternoon. Patients had a safe, efficient and convenient medical experience.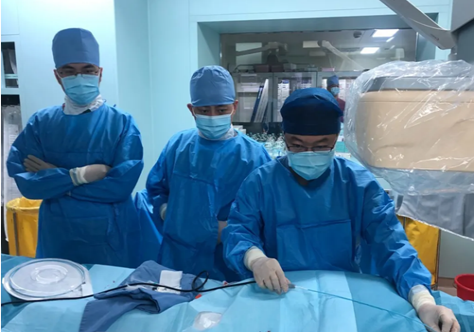 Ms. Wang, 55 year-old, has been suffering from paroxysmal supraventricular tachycardia for more than 20 years, and recently came to our cardiology department for consultation. After a detailed examination, Dr. Zhou decided to perform catheter ablation day procedure to help her get rid of her palpitations. On the day of procedure, Ms. Wang arrived at the daytime ward at 8:00 a.m. and was admitted through a self-service machine with the assistance of a nurse, and then came to the cardiac catheterization center to prepare for the procedure. At 9:00 a.m., preprocedure preparation was completed, and catheters were placed into the heart from subclavian vein and femoral vein. After successful induction of tachycardia by electrophysiological examination, the patient was diagnosed as AV node reentrant tachycardia. After then, Dr. Zhou performed ablation within the slow pathway area for Ms. Wang, the procedure was successfully completed within 50 minutes. Ms. Wang returned to the daytime ward, and the nursing team took over Ms. Wang's post-procedure care. At 1:00 p.m., Ms. Wang was able to get out of bed and was discharged at 3:00 p.m. After the procedure, Ms. Wang recovered well and did not experience any more palpitations.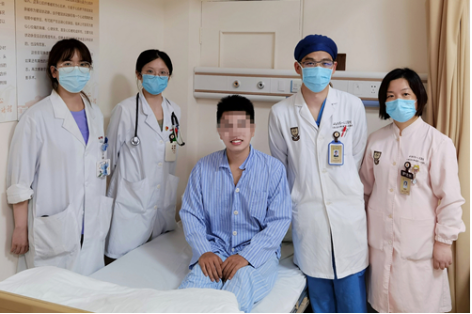 According to Professor Liu Shaowen, director of the cardiovascular center of Shanghai General Hospital, at present, the population of patients with arrhythmia in China is large and still growing. Catheter ablation is the main treatment for tachyarrhythmia, such as supraventricular tachycardia, ventricular premature beats and atrial fibrillation. The arrhythmia team of our hospital has rich experience in cardiac interventional diagnosis and treatment, with a total of more than 20000 arrhythmia interventional procdures. Traditionally, the average hospitalization duration of catheter ablation for ventricular premature or supraventricular tachycardia is 2-3 days, and 5-6 days for atrial fibrillation. By strengthening process management and optimization, the arrhythmia team of our hospital can routinely perform daytime catheter ablation procedures for premature ventricular and supraventricular tachycardia, significantly shortening the length of stay and improving the patient experience while ensuring medical safety.
Corresponedent: Zhou Genqing