Orthopaedic Department of Our Hospital Held A Seminar on Supine Anterior Approach Technique for Hip Arthroplasty ASI
On September 22, 2021, Prof. Jinzhong Ma, Prof. Lipo Zhu and colleagues from Shanghai General Hospital had an academic exchange with Prof. Jonathan G. Yerasimides, director of Orthopedics and master of joint replacement at Louisville College of Medicine. The two sides had an in-depth discussion on complex and difficult cases in the field of anterior hip arthroplasty.
Dr. Jonathan G. Yerasimides shared ASI surgical technology video and the application of doul-mobility hip prosthesis system in anterior hip arthroplasty. Professor Zhu Libo, Dr. Lu Haiming, Dr. Wang Cong and Dr. Sang Weilin introduced in detail the application of direct anterior approach in revision hip arthroplasty and complex primary hip arthroplasty. Professor Yerasides highly affirmed the exquisite surgical technology of the Orthopaedic Department of our hospital. The participants discussed and exchanged ideas enthusiastically, and all of them felt that they had benefited greatly.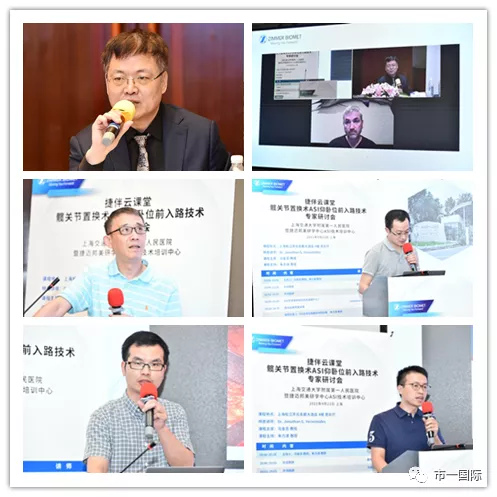 Minimally invasive direct anterior hip arthroplasty is characterized by minimally invasive surgery, stability and fast recovery. In recent years, it has gradually become an increasingly important technique for joint surgeons in China. As the first department in China to carry out minimally invasive direct anterior approach hip arthroplasty, Professor Ma Jinzhong's team in Shanghai General Hospital has been committed to promoting minimally invasive and precise hip arthroplasty. In 2008, Professor Ma Jinzhong's team was the first in China to carry out minimally invasive hip arthroplasty, as this technique carries out artificial hip arthroplasty through the muscle gap, the damage of soft tissues is reduced to minimum level. In the past 14 years, nearly 2,000 minimally invasive hip replacements have been performed without any major complications. Through more than ten years of clinical exploration and innovation, Professor Ma Jinzhong led the joint surgery team to summarize the treatment standard and latest progress of direct anterior approach hip arthroplasty in comprehensive and systematical ways, making great efforts to promote domestic artificial hip replacement to be in line with international standards and synchronous development.

The joint surgery team of Shanghai General Hospital under the leadership of Prof. Ma Jinzhong has been committed to the clinical and scientific research work of minimally invasive hip surgery with direct anterior approach since 2008, and has accumulated a lot of clinical experience and scientific research achievements so far. The conference was held to build a platform for better communication and understanding of the ASI surgery among surgeons, so as to better serve the patients in the future.