Webinar on Intervention of Complex Coronary Artery Disease between Our Hospital and Rabin Medical Center of Israel Were Held in Our Hospital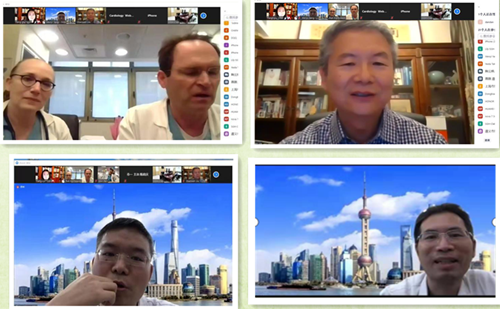 Recently, a webinar on "Interventional Treatment of Complex Coronary Artery Lesions" was held between our hospital and Rabin Medical Center of Israel. The team of Liu Shaojun, director of the cardiology department of our hospital, and Ran Kornowski, director of the Cardiology department of Rabin Medical Center, discussed two complex and difficult cases of percutaneous revascularisation for left main bifurcation lesions and percutaneous revascularisation for chronic total occlusion.

Prof. Hana Vaknin Assa, director of the cardiac intervention department at Rabin Medical Center, shared a case of Takayasu Arteritis, a rare disease involving the left main coronary artery. Prof. Wenyi Yang provided his treatment plan, and carefully compared the similarities and differences of the treatment plans from the two teams. Prof. Guowei Zhou reported the baseline angiography and clinical features of the case with chronic total occlusion in left descending artery. He showed the detailed procedure of interventional treatment of this case and the complex techniques used in opening the left anterior descending branch. Some of the surgical techniques were not yet mastered by the Israeli counterparts, which aroused their strong interest and gave the praise of "truly fabulous".
Around the case, the Chinese and Israeli teams had heated discussion. Both sides agreed that the mutual learning and academic discussion is of great significance to improve clinical diagnosis and treatment in terms of respective technical advantages. Both sides agreed to continue a series of academic exchange activities around the core technologies of cardiac electrophysiological intervention and transcatheter aortic valve replacement(TAVR).