Our Hospital Scored A++ in the "National Examination", Ranking Twelfth in the Country and Third in Shanghai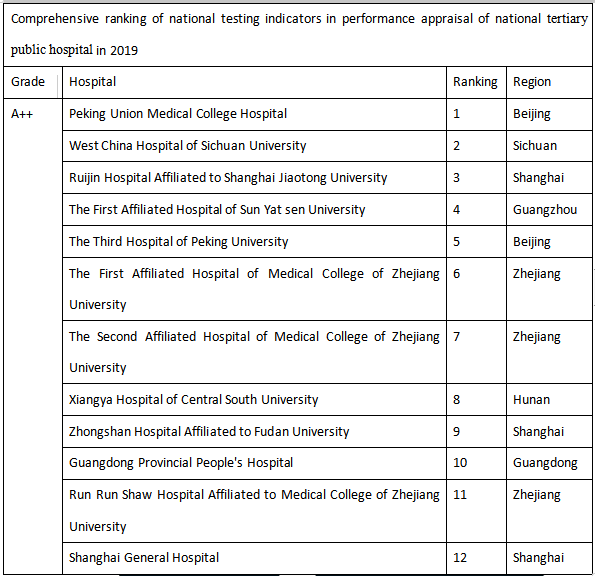 On March 30, the National Health Commission announced the assessment results of the national monitoring indicators for the 2019 tertiary public hospital performance appraisal. Our hospital was scored A++, ranking twelfth in the country and third in Shanghai.
In 2019, the General Office of the State Council issued the Opinions on Strengthening the Performance Appraisal of Tertiary Public Hospitals (hereinafter referred to as "Opinions"), which officially kicked off the "national examination" for tertiary public hospitals nationwide. The assessment aims to promote the reform of the tertiary public hospitals, to improve hospital quality and operational efficiency, and to provide quality medical services to the patients.
According to the Opinions, the performance assessment index system of tertiary public hospitals consists of four primary indicators, namely medical quality, operational efficiency, sustainable development and satisfaction, as well as 55 secondary indicators. The National Health Commission selected 26 of these indicators with more objective and comparable data sources as national monitoring indicators, and used them as the basis for national ranking.
In the appraisal, the general hospital grade is divided into three grades A, B and C, and each grade has three subregions. Among them, the top 20% of hospitals are scored A. In the A grade, the top 1% subregion is A++, and a total of 12 tertiary general hospitals nationwide have received this rating.