Shanghai Nurses Supported Wuhan for 34 days to Record the Touching Moments in Leishenshan Hospital with "Paintbrush"
March 23, 2020, 22:28, source: Pengpai News
Since her departure on February 19, Wang Hui has been working in Wuhan for 34 days by March 23.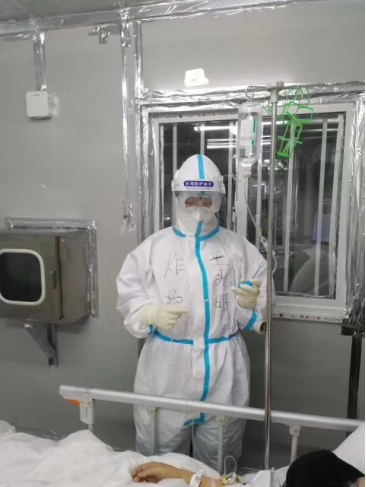 Wang Hui in protective clothing

Wang Hui is a nurse in the international medical care center of Shanghai General hospital. As a member of the third batch of Shanghai medical support team in Wuhan, she is currently responsible for nursing the patients in the C3 ward of Wuhan Leishenshan hospital. Besides caring for patients, she also created many paintings with mobile phone software, recording the touching moments in the ward, as well as the patients and medical staff's hope for the future.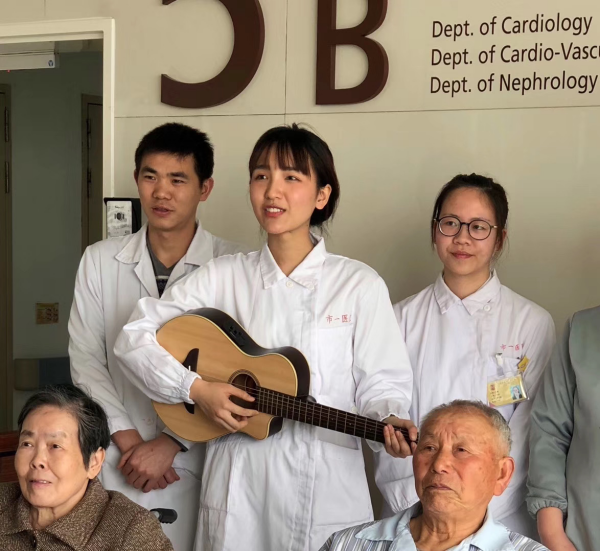 Wang Hui in nurse's uniform (Guitarist in the middle)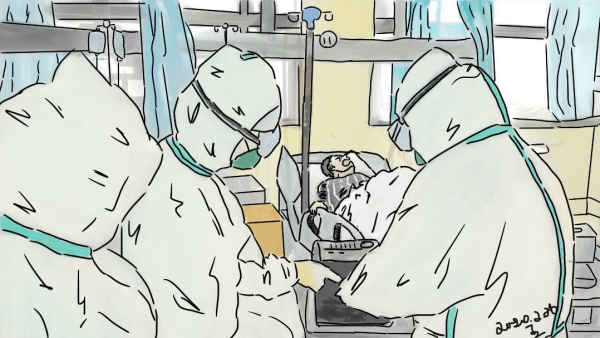 In the ward of leishenshan hospital, medical staff treat patients
At 6 p.m. on March 23, Wang Hui got off work from the ward and returned to the hotel dormitory. After a day's work in the ward, she was relieved. The patients in the ward were recovering day by day, and she was really happy for them.
"Several patients in the ward have been discharged from the hospital, and naturally I feel better." Wang hui mentioned that she escorted a discharged patient to the gate of the ward. "when the ambulance drives in the campus of Leishenshan hospital,the recovered patient' looked out of the window s and his eyes were full of hope. I'm cheered up to see that."
Later, she created a painting referring to the scene at that time, replacing the hospital buildings outside the window with a vibrant cherry blossom. She said that she expects all patients to have the day of recovery and discharge as soon as possible in this cherry blossom season.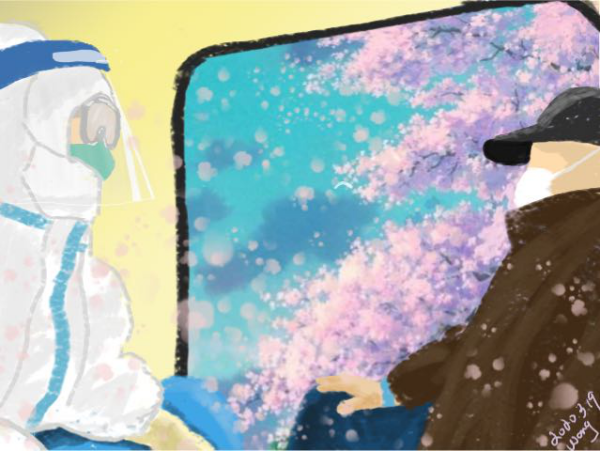 Wang Hui escorts the recovered patient out of the hospital. The patient's eyes are full of hope as he looks out of the window. Wang Hui records that moment with his paintings.
There is an old man in his 90s in the ward. Wang Hui affectionately called him Grandpa. "Grandpa often smiles at us. His eyes are curved and lovely." When the old man was just sent to Leishenshan hospital, he was tired and couldn't get off the bed. He even had problems eating and swallowing.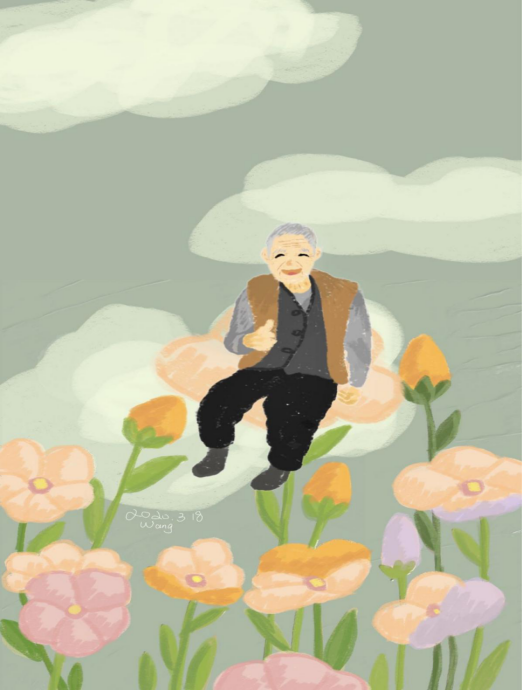 Grandpa, who is in his 90s in the ward, laughs very cutely.

"We felt heartbroken when taking care of grandfather because he didn't have any teeth to eat, and it took us half an hour to feed him." Wang hui and his colleagues carefully picked out the fish bones, softened the rice, and then fed him carefully.
Under the careful care of Wang hui and his colleagues, after two weeks, the old man's condition gradually improved. He can not only eat a bowl of porridge quickly, but also walk on the ground.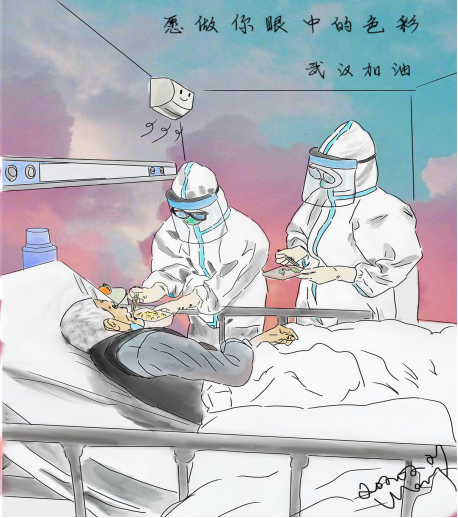 Wang Hui and his colleagues feed Grandpa
One afternoon, the old man walked to the corridor outside the ward and looked out of the window. " Wang Hui felt sad for him: Grandpa's ward has no windows. Every day, he is facing us who wear the protective clothing or looking at the white walls. He hasn't seen the outside world for a long time. He has been staring out of the window for a long time. I remember this scene very deeply. " Wang Hui recorded the scene with her paintings as a permanent souvenir.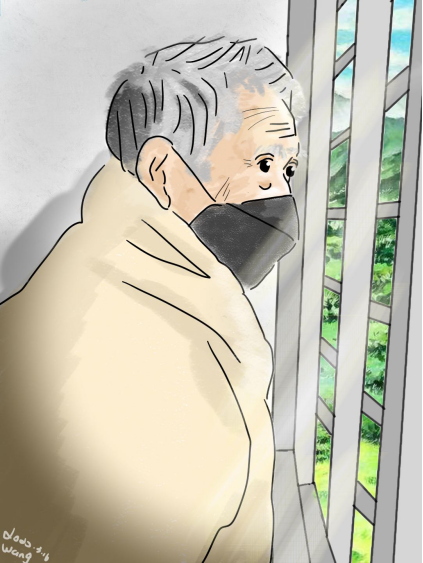 Grandpa looking out of the window for a long time
In addition to recording what she saw and felt in her ward, Wang Hui also use her paintings to record other colleagues' touching moments . "My colleague once sent a video in our medical team group. An old woman saluted the doctors and nurses in the ward and thanked them for their hard work." At that time, she said, it was still difficult, and she was deeply moved by the salute from the patients to the doctors and nurses. "The beginning is always the hardest and everything will get better.
Grandma saluted the medical staff
Now, more than one month after she left her home, Wang Hui is really homesick. At his home in Zhongshan street, Songjiang District, Wang Hui's parents communicate with his daughter every day about her life in Wuhan. Although his parents say that they want her to work well in the front line without worrying about the family, Wang Hui understands that his parents do worry about her. "At first, I volunteered to support Wuhan without telling my parents. Fortunately, my parents also supported me to come to Wuhan when they knew her decision. They always remind me to take care of myself on the phone. I know they are worried about me. "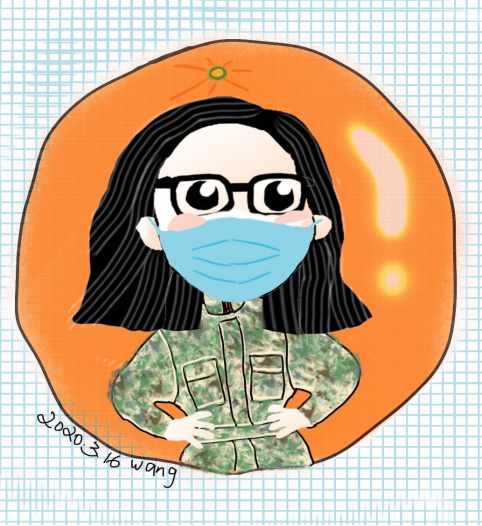 Wang Hui's colleagues in uniform
Wang Hui said that although she misses Shanghai and her parents, she knew that she should take care of those patients and she determines to work to the last minute. "I do my job seriously every day and I hope more patients will get recovered. We believe that we will accomplish our mission successfully."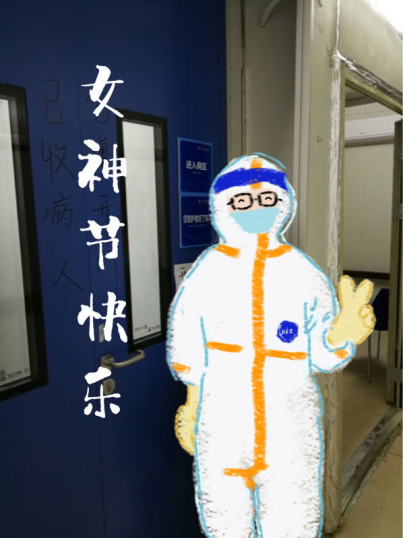 Wang Hui's portrait for his colleagues on Women's Day