Signing Ceremony of "Hongkou - Shanghai General Hospital" Medical Partnership Held in Our Hospital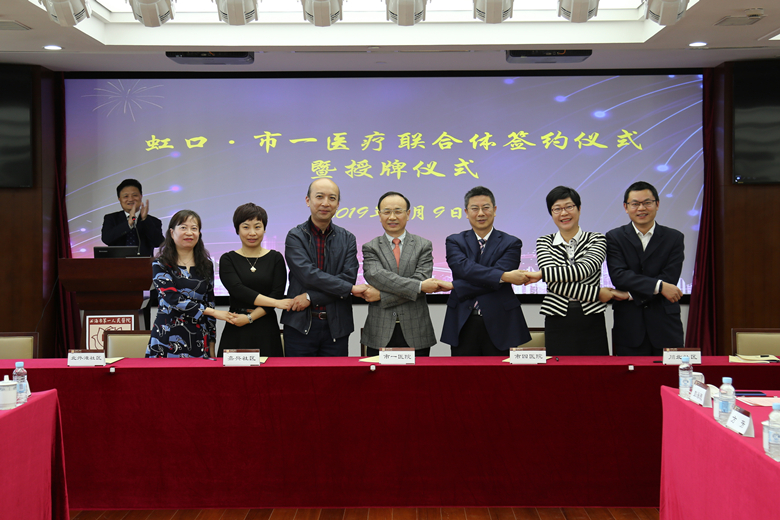 Recently, the "Hongkou-Municipal Medical Partnership" with Shanghai General Hospital as the core was officially established. The signing ceremony of the partnership and the licensing ceremony of its member units were held in our hospital.
It is reported that "Hongkou - Shanghai General Hospital Medical Partnership" is a comprehensive regional medical treatment partnership under the mode of 3+2+1. Its members include Shanghai General Hospital, Shanghai Fourth People's Hospital, and street community healthcare centers located at North Bund, Hongkou District, Jiaxing Road, Jiangwan Town, Sichuan North Road, Quyang Road, respectively.
In accordance with the objectives of cooperation, talent training, resource sharing and common development, the medical partnership will integrate regional medical and health resources, promote the development of medical institutions at the municipal and district levels, and improve the overall utilization rate of medical resources. Starting with the construction of clinical capacity of specialized diseases, the establishment of telemedicine platform, the establishment of talent training system, the improvement and promotion of the four regional central platforms and the cooperation of clinical multi-center research, a graded diagnosis and treatment model of "primary diagnosis, two-way referral, separate treatment of acute and chronic diseases, and upper & lower linkage" has been gradually formed, and a further step-by-step diagnosis and treatment model has been created. New brand medical consortium with distinctive features, strong strength and high satisfaction among the public strives to keep serious illness out of the area and benefit the people of Hongkou.