Our Hospital Performs Minimally Invasive Surgery with AI plus Naked Eye Technoglogy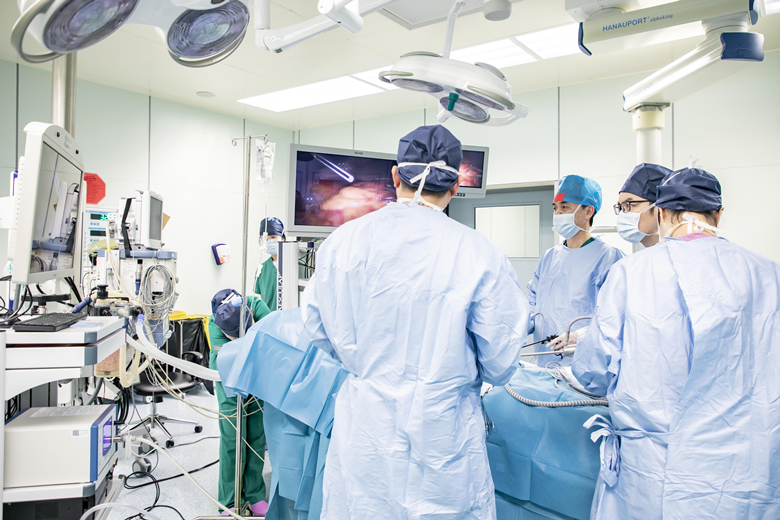 The team from our General Surgery Department is performing a 3D laparoscopic surgery with naked eyes under the support of AI eye tracking and 4K ultra HD technology
On July 26, the Clinical Medical Center of our General Surgery Department applied the naked-eye 3D display system based on AI eye tracking and 4K ultra HD technology in performing the radical resection of rectal carcinoma for a patient with rectal cancer. This system is able to automatically identify the surgeon through the camera loaded on the display, and dynamically display 3D image on the screen by determining the immediate location of the left and right pupil. Compared to 3D glasses, the operator has a broader visual field, more clear level, higher efficiency and accuracy of operation, without increasing any surgical expense. According to the result of literature review, it is the first time that this technology was formally applied in clinical laparoscopic surgery in China.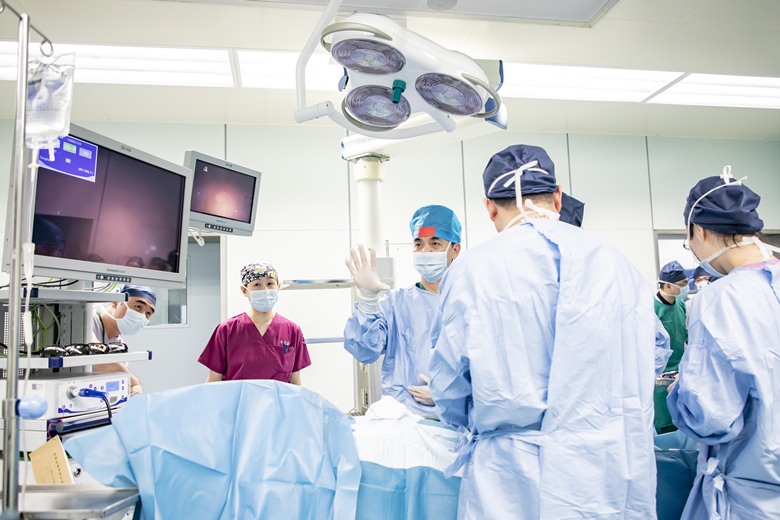 Before the surgery, the surgeon is locating by eye tracking.
The surgical team opened 5 holes in the abdomen of the patient. With the laparoscope entering the abdominal cavity of the patient, the anatomical structure, including the delicate nerve, was clearly shown on the screen. It is introduced that the response time of this intelligent naked-eye 3D operation display system is less than 0.01 ms. The surgeon rotation of head and movement during the operation have no impact on display of the image. Whenever the surgeon moves his line of sight, the 3D image on the screen will be adjusted immediately to ensure the image accurate, full and vertical all the time.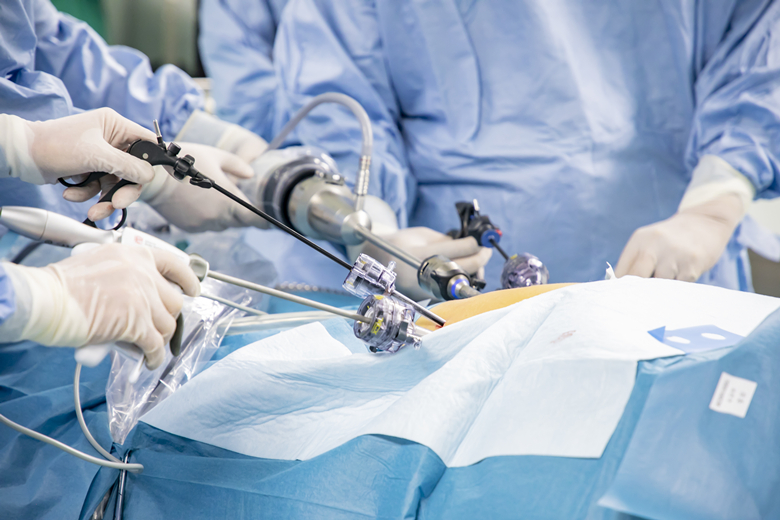 The first one from left is the surgeon who is performing the surgery by 3D technology with naked eyes; the first doctor from right wears traditional 3D glasses to perform the surgery
With the 4K high-definition 3D image, the surgeon can fully explore the abdominal cavity. Since everything was normal, the radical resection of rectal carcinoma was performed according to the standard procedures. First of all, the surgical team purged surrounding lymph glands at the root of the inferior mesenteric artery, and highly selectively retain the left colic artery, which can improve post-operation blood supply for anastomotic stoma to the maximum extent, reduce anastomotic fistula and accelerate recovery of the patient. Subsequently, they carefully dissociated the far and near ends of rectal tumor, and precisely identified nerves of hypogastrium and pelvis with the help of 3D camera lens. This can avoid invasion and damage, and maintain the post-operation urination and sexual functions to the maximum extent. About an hour later, the specimen from the radical resection of rectal carcinoma was totally taken out. Anastomosis of rectum and colon was carried out under the 4K high-definition 3D image. The operation was successfully completed .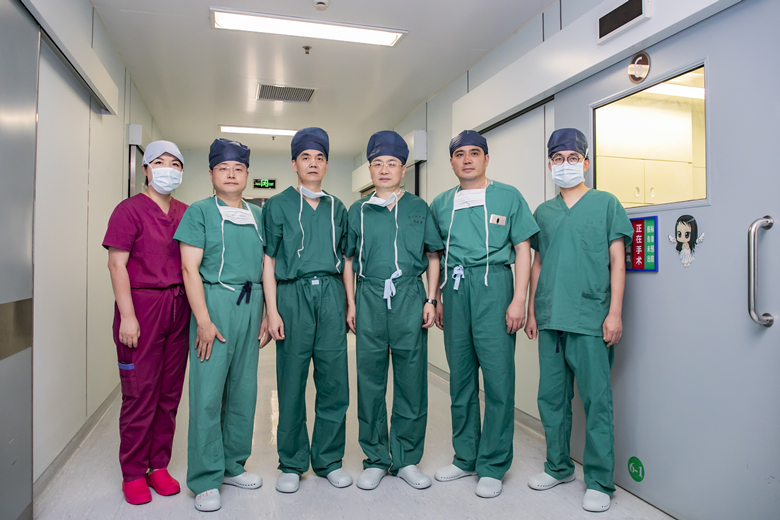 Group photo of the surgical team