Our hospital Signed Comprehensive Memorandum of Cooperation with Israel Rabin Medical Center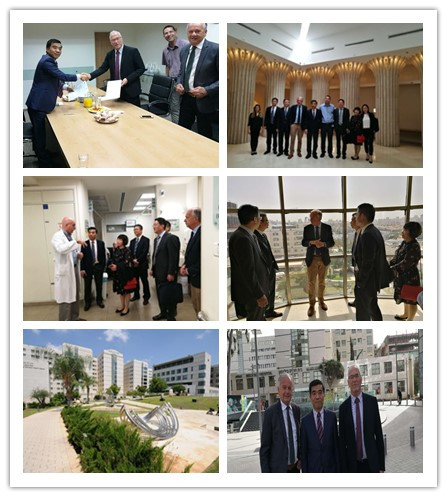 From March 5th to 6th, six members of our delegation led by President Xingpeng Wang visited Rabin Medical Center in Tel Aviv, Israel. Professor Eryne Halpern, CEO of Rabin Medical Center, and Professor Xingpeng Wang, president of Shanghai General Hospital, signed comprehensive memorandum of cooperation with establishing all-round cooperation in areas including study of clinical innovative technology, personnel training, research between the two sides.
Rabin Medical Center(RMC), one of Israel's largest and most advanced medical institutions, occupies a leading position in the world in the field of cardio-thoracic surgery, vascular surgery, tumor, hematology and organ transplantation. Some doctors of RMC enjoy a high reputation in the world; and its innovation technology develops dramatically in recent years. According to the MOU, our hospital will initiate all-round cooperation with RMC in personnel training, clinical and basic research and academic exchanges. The leaders of the two sides will set up a steering committee to promote the cooperation and take turns to act as chairman of the committee. Both sides will jointly promote the implementation of the cooperation planand regularly check the progress and effectiveness of the cooperation.
As the refuge of the Jews during the Second World War, Shanghai forged a deep friendship with the Jews. Thus, senior officers and medical staffs of the Rabin medical center warmly received the delegation of our hospital. Accompanied by Prof. Dan S. Oppenheim, the director of international department and former CEO of RMC, our delegation were introduced the health care system in Israel and Tel Aviv, and visited ICU, Heart Center and Transplantation Center under the two hospitals Belinson and Hasharon in RMC.
Experts from both sides had an in-depth communication in their respective fields, learned in detail about the field that RMC could cooperate with our hospital, and discussed the cooperative mode of management, technology, researches and talents exchange plan in the future. Prof. Eryne Halpern, CEO of RMC, expressed his willingness to visit our hospital in the near future, so as to advance the friendship and cooperation between the two sides as soon as possible.