SGH Holds Honoring Ceremony for the International Nurses Day of 2016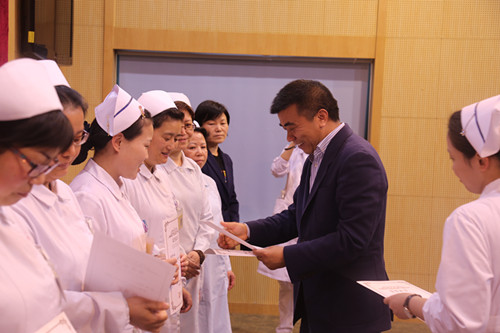 To commemorate the Nightingale spirit, honor outstanding nurses, encourage the young nurses, Nursing Department held a honoring Ceremony for the International Nurses Day on the afternoon of May 11. President Wang Xingpeng, the Director of Nursing Department Fang Fang, and the head nurse of specialty department attended the ceremony.
The ceremony was presided over by the Deputy Director Chang Jian in South Branch. On behalf of the Nursing Department, Director Fang Fang extended warm welcome and greeting to all the nurses of our hospital with cordial words. She summarized the achievements of nursing department made in the past one year.
The theme of this year was "Nurses as A Force for Changes Provide the Health System with Enthusiasm". Under this theme, our Nursing Department organized series of activities to boost nursing culture and improve the nursing skills, including nurse photo exhibition with stories behind the photos, nursing culture creation simulation and short video taking, stress release activity, new nursing education materials preparation, first aid skill competition, etc. Nurses were greatly motivated and actively participated in the activities. In the meantime, our Nursing Department successfully applied for the Shanghai Key and Weak Discipline Construction Project. Director Fang Fang encouraged the nurses to work enthusiastically, pass on concept and skills, and uphold the spirit of dedication.
Director Li Ping from South Branch announced the lists of honored nurses in 2015-2016. President Wang Xingpeng presented the honored nurses with awards. After that, on behalf of our hospital, President Wang Xingpeng extended warm greetings to the nurses who work in the frontier of clinical treatment but regardless of personal gains or losses, praised the achievements of Nursing Department in clinical service, quality management, teaching and research. He encouraged the nurses to love their job and regard it as a career, value their work in heart, improve nurse training, create new nursing concept, strengthen the team cohesion and try to make bigger progress.