A Warm Regard to Our 8th Batch of Cadres Aiding Xinjiang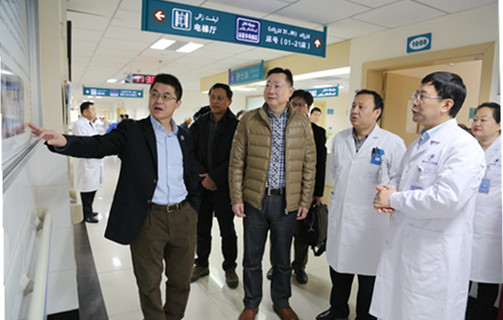 On Nov. 30, Feng Yun, Secretary of Party Committee led a delegation of four members from our Party Office, Scientific Research Office and Labor Union to Kashgar, to extend regards to our 8th batch of cadres Zhou Chongzhi and Liu Haitao who aided Kashgar 2nd Hospital' sconstruction in Xinjiang. Kashgar 2nd Hospital's President Wu Tao, Secretary of Party Committee Abdulkeyumu Saimaiti, and their party members extended a warm welcome.
Our delegation visited their Urinary Surgery Department, South Xinjiang (Kashgar) New Medical Consortium Internet Remote Medical Center and other departments. President Wu Tao introduced Kashgar 2nd Hospital's developments and achievements in medical treatment, teaching and research in recent years. He also thanked our hospital for our support and selfless help to them over the years.
During the tour of observation and communication, Our Secretary Feng Yun thanked Shanghai Municipal Party Committee and Municipal Government for giving the two colleagues a chance to serve the people in the border area; thanked the local governments of Xinjiang and Kashgar for their trust to our two colleagues, for giving them a platform to display and give play to their skills; thanked Kashgar 2nd Hospital for their support in work and care in life to the two colleagues. He also spoke highly of the two colleagues' efforts for Kashgar 2nd Hospital's construction during the past one and a half year, congratulated them on their achievements. Kashgar 2nd Hospital's great leaps forward and remarkable achievements in recent years show a level-3 grade-A hospital's standards and level. Secretary Feng Yun was impressed by Kashgar 2nd Hospital's discipline construction, personnel training, internal management, information construction, medical consortium development, performance operation, etc. At last, Secretary Feng Yun said our hospital would continue to respond to the call, select outstanding backbones, establish "political consciousness, overall consciousness, core consciousness and learning consciousness", to make contributions to Kashgar area's development of medical and health services with deep affections.