"Fill the Gap" of Regional Quality Medical Resources: Jiading District People's Government and Our Hospital Sign an Agreement to Construct Shanghai General Hospital's Jiading Branch Together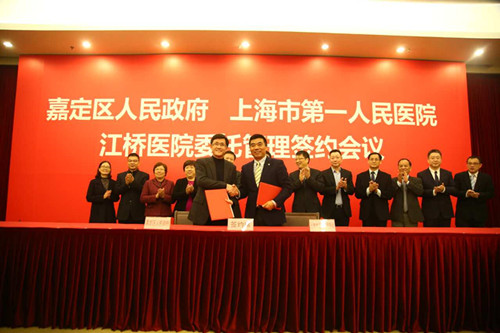 On the morning of Dec. 6, Jiading District People's Government and our hospital formally signed an Agreement on Joint Construction. The two sides will have close cooperation in constructing Shanghai General Hospital's Jiading Branch (Jiangqiao Hospital, Jiading District), and build it into a regional general medical center that complete medical departments, outstanding medical treatment, teaching and research ability. This move will fill the gap of quality medical resources in Jiangqiao Town, Jiading District and even the entire North Hongqiao Area, radiate to and boost the entire health service quality in Hongqiao CBD and North Hongqiao Area. In the meantime, to the two sides, this will be a new practice in implementing, deepening and promoting the medical system reform and public hospital reform, a new step in the strategic development toward regional health cooperation and public hospital management.
As the urbanization of Zhenxin and Jiangqiao proceeds, and the aging of the population becomes more serious, the only level-1 grade-A hospital in the area no longer can satisfy the nearly 500,000 residents' demand for medical services. It has become a matter of great urgency to build a general hospital that fits the regional economic development. In 2014, approved by Shanghai Municipal Commission of Health and Family Planning, Jiading District selected No. 800 Huangjia Huayuan Road, Jiangqiao Town, as the site to construct Jiangqiao Hospital.
It's reported that after completion, Shanghai General Hospital's Jiading Branch will occupy 35,415㎡ of land. The total floor space will be 58,490㎡. It will provide 500 beds as approved. The hospital will have an Internal Medicine Department, Surgical Department, Gynecology and Obstetrics Department, Pediatrics Department, Chinese Medicine Department, Rehabilitation Department, other outpatient departments, a 24h Emergency Center, Physical Examination Center, Surgery Center, etc. It will be equipped with MRI, CT, DR, DSA and other large medical equipment. In terms of functional positioning, it will stick to the public hospital direction, integrate medical treatment, teaching, research, disease prevention, first aid, rehabilitation and health education, to enhance the accessibility and fairness of medical services for local residents. It will play an important role in regional urbanization, multiple districts' social development and the homogeneous development of medical services, etc.
According to our hospital's President Wang Xingpeng, Shanghai General Hospital will share our quality medical resources, personnel and discipline platforms with Jiading District, build the Jiading Branch into a medical center that has complete medical services and outstanding medical teaching and research ability in the south of Jiading District. In the meantime, our hospital will become Shanghai's first level-3 grade-A general hospital to settle down in the suburbs. Since our hospital settled down in Songjiang ten years ago, we have made remarkable achievements, made contributions to the integrated development of rural and urban public services, to the enhancement of the entire medical service level in Shanghai's suburbs. This time, after we signed the agreement with Jiading District Government to build Shanghai General Hospital's Jiading Branch together, the two sides will explore a group management pattern based on the region's actual health service situation, promote the establishment of a regional "1+1+1" hierarchical diagnosis and treatment system, provide high-quality, convenient, efficient medical and health services for North Hongqiao Area's entrepreneurial talents and Jiading District's residents.