Royal Melbourne Hospital's CEO from Australia Visits Our Hospital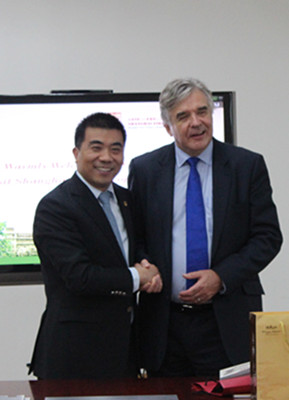 On the afternoon of April 11,Royal Melbourne Hospital's CEO Dr. Gareth Goodier from Australia visited our hospital. President Wang Xingpeng and Vice President Pan Changqing, along with leaders from General Office in South Branch, Administrative Office, Medical Department, Education Department and Nursing Department, attended the reception. The two sides had a friendly meeting. After listening to President Wang Xingpeng's introduction to our hospital and visiting Endoscopy Center in South Branch, Hospital History Gallery, IMCC, Daytime Medical Department, ICU and IMCC wards, Dr. Gareth Goodier showed great interest in our history, culture and development. He also expressed his intention to have deeper communication and cooperation with our hospital.
Royal Melbourne Hospital affiliated with the University of Melbourne is a world renowned general hospital that practices the collaborative development of medical treatment, education and research. It has prominent features and advantages in fields like neurology, oncology, traumatology, virus infection, type I diabetes, and thus shares many key disciplines and common interests with our hospital. As a result, the two sides had preliminary talks about hospital management, exchange visits, collaborative clinical research, education and training. Dr. Gareth Goodier warmly invited President Wang Xingpeng to visit Royal Melbourne Hospital. He also expected another visit to our hospital within the year to sign an agreement package on the details of cooperation.